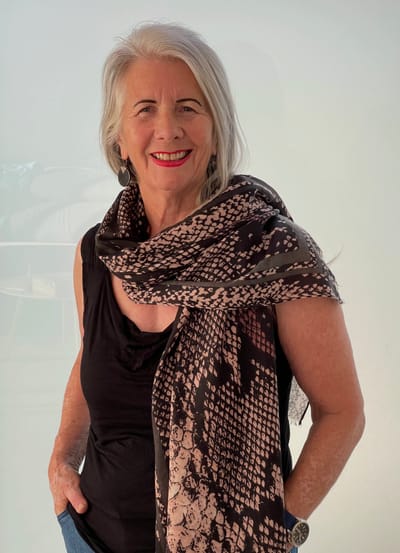 Professor Jennifer Gidley, PhD
Author, Climate Educator, Psychologist, Futures Researcher.
Forbes "World's Top 50 Female Futurists" List.
Jennifer is a global thought leader and advocate for human-centred futures in an era of hi-tech hype.
She is unique in the Futures world for her exceptional scholarship, mature wisdom, and grounded understanding of people as they face an increasingly uncertain world. Her inspiring human-centred insights speak to all audiences and enable hopeful, yet practical, strategies for creating better futures.
An innovative program creator, she has designed, developed, and/or instructed, several innovative online courses in futures studies and foresight in Australia, Iran, and the USA. This included design and development of an online MSc in Strategic Foresight at Swinburne University, Melbourne, and an Executive Education level course "Introduction to the Art and Science of Futures Studies" for a scientific think tank and consultancy in Tehran, Iran. More recently she co-curated the
European Commission "Future Forward" project
in collaboration with TED-Ed.
Jennifer's current project is the founding of
Global Futures Education
,
as a platform to provide high-level online education for professionals and executives. Over several years she has created a series of executive-level online courses on 'Grand Global Challenges and Alternatives'. The first of her Global Challenges Series is a Climate Education program called
"Global Futures of Climate".
Find out more about
Jennifer's climate crisis concerns, her motivation to create a climate futures education program, her inspiration for this work, and her hope
that we can act on climate turnaround urgently with knowledge, integrity and speed.
She is a globally respected consultant, speaker, and educator. Her international engagements have included futures-focused projects in Europe (Czech Republic, Finland, France, Germany, Luxembourg, Poland, Romania, Spain & Sweden), Asia (Malaysia, Shanghai & Taiwan), Latin America, the Middle East (Egypt, UAE and Iran), the UK and the USA. Inspired by the philosophy and pedagogy of Rudolf Steiner, she has been an innovative educator for over forty years, including running a Women's Learning Centre in the '70s, and founding and leading an independent school in regional NSW in the '80s and '90s.
Jennifer is an
Adjunct Professor, Institute for Sustainable Futures (UTS)
Sydney, and has held academic posts in four Australian universities. She is a Fellow at the Botin Centre, Santander, Spain, and a
non-Resident Fellow of TRENDS Research & Advisory
,
Abu Dhabi, UAE. She has held a Visiting Professorship at Olomouc University, Czech Republic and a Visiting Research Fellowship at SciencesPo, Paris, France;
As the longest serving elected
President (2009-2017) of the World Futures Studies Federation
(founded in Paris in 1973 and a UNESCO and UN ECOSOC partner) her leadership transformed the organisation. Heading this global peak body for futures studies scholarship, she led a network of hundreds of the world's leading Futures scholars and researchers from over 60 countries. In just eight years she rebuilt WFSF from a tired, legacy organisation into the most influential and respected Futures NGO in the world. She also presided over WFSF-UNESCO Participation Projects to develop future leaders in DR Congo, Egypt, Malaysia, Philippines, Mexico, and Haiti.
Jennifer is an advocate for human-centred, participatory futures approaches that foster human agency, empowerment and individual engagement in long-term thinking, sustainability, and regeneration. Many of her publications, research projects and consultancies offer insight into these vital futures domains.
Jennifer's PhD dissertation on 'Evolving Education' was awarded the Chancellor's Gold Medal for Academic Excellence. She has published over fifty academic papers and serves on the editorial boards of several international academic journals. She has also co-edited two academic books 'The University in Transformation' (2000), and 'Youth Futures (2002)'.
Her recent academic books include:
'Postformal Education: A Philosophy for Complex Futures'
(Springer, 2016)
'The Future: A Very Short Introduction'
(Oxford University Press, 2017)
'The Secret to Growing Brilliant Children'
(Bear Books, 2020)
- 'The Future' is the first Oxford University Press book on futures thinking. It is now used in futures studies programs in Universities around the world, and is translated into Arabic, Turkish, Italian and Greek, with several other translations now in progress.
Click here for
Global Futures Education.
Click here for
Climate Education Course.
Click here for
Academic Research.
Click here for
LinkedIn.
Click here for
Videos.